This article first appeared in ViewFinder 99
FutureLearn, wholly owned by The Open University, is the first UK-led provider of massive open online courses (MOOCs). We speak to Simon Nelson, its CEO.
Question: How did you get involved in MOOCs?
Nelson: I spent the bulk of my career at the BBC developing digital services, especially the on-demand services, first the Radio Player and then iPlayer. About two and a half years ago, having left the BBC, I started doing some consulting work at The Open University just at the moment they were starting to look at the emergence of the bizarrely named MOOC, which stands for massive open online course. It was a movement that had been around for a few years but had suddenly been turbo-charged by the entry of a few start-ups around the start of 2012. As well as Coursera, arising out of Stanford, a venture capital backed venture, we had edX, a joint venture between Harvard and MIT, and other private companies such as Udacity. In November 2012 The Open University asked me to set up a UK-led startup as a response to this phenomenon.
Q: Just how big are MOOCs?
A: One of the things that caught the imagination of Universities, governments and the media in the beginning was that some of these courses were reaching hundreds of thousands of people, rather than the few hundred or a thousand that might have been anticipated. The reason for that was a combination of world-class brands entering the market – both universities and leading academics – but also the nature of the teaching, which was event-led, so the courses were taught as live with a beginning, middle and end. That, among other things, encouraged cohorts of learners to go through the courses together and learn at a similar pace and increasingly from each other as well as from the educator. The biggest courses are in six figures; FutureLearn's biggest course so far has been 'Exploring English Language and Culture' from the British Council, which had 125,000 people join on its first run and about 110,000 on its second run. Courses can also be fairly niche and attract learners in the low thousands in more specialist areas, such as dental photography. But even there they are attracting highly committed audiences and are teaching far more people concurrently than have ever been taught via traditional means in those subject areas.
Q: Has the UK been a bit slow to embrace this approach?
A: I don't think so. FutureLearn definitely launched a year or two behind some of the American competitors but I think we have been able to look and learn from what had gone before. FutureLearn has also been able to draw on nearly fifty years of expertise in distance and online learning from The Open University which owns the platform. This is a rapidly emerging market, and one where we all need to continue to move at pace, and think quite radically in some cases.
Q: What do you mean by radical?
A: I mean that the Higher Education sector is evolving the world over with the emergence of digital technologies, and these technologies offer opportunities to reach more people in different ways, and to deliver more effective types of learning to all sectors of society. I think that is a prize that is there for the taking, and the 'radical' thought is the extent to which universities are able and willing to transform themselves to embrace those opportunities.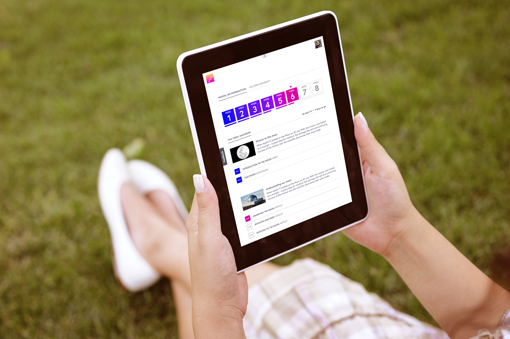 Q: How much is this development being drawn by the combination of new technologies and emerging international markets?
A: I think they are separate factors but completely interlinked. There is no doubt that Higher Education is now undergoing the digital transition that many other industries have faced, and that is something that is here to stay, in my view. The internet is going to have a very significant impact on the way that we all learn over the next couple of decades. At the same time, as you say, there is the emergence of vast demand all over the world. In just about every society there are major skills gaps in areas you can predict – digital skills, teacher development, basic STEM, entrepreneurship, nursing or healthcare – and the ability to potentially to deliver part, if not all, of the solution online, and at scale, is definitely one of the most exciting things driving this market.
Q: MOOCs are open and free – can this be a restriction, for instance in using third-party content?
A: I try to encourage everyone to think about new ways of working. The Web, when it arrives in an industry, rewards fresh thinking about traditional commercial models. I think companies that can successfully navigate the intersection between free and paid are ones that find really exciting and scale-able models. As FutureLearn, we believe that our free open courses are very, very powerful funnels for our partners to feed into their paid courses. We are having a lot of success at driving people into traditional campus-based – and online – Masters or Undergraduate programmes. We are also talking to a lot of our partners about providing shorter courses that can capitalise on new demand from new audiences. That free-to-paid model is potentially very powerful, and I think more content owners should be experimenting with it as a way to guide a wider range of audiences to their content. I do find that traditional publishers and content owners are often among the most difficult to convince to pursue these kinds of models, just because they are quite wedded to traditional forms of monetisation. I believe free online courses could be a very powerful way to up-sell paid content by providing free tasters.


Q: Technically, what are the current limitations you face?
A: There are no inherent limitations – we built our own solution and we know that it scales. The issue can be more for people in different parts of the world with different connectivity levels. We know that in areas of low bandwidth it's hard to stream these video-rich courses. We have made sure that our platform is entirely mobile native so that every feature we put on a course works as well on a mobile device as it does on a computer. We had a wonderful example recently where we heard of a doctor in one of the Ebola treatment clinics in Sierra Leone, who downloaded all of the videos from our course 'Ebola in Context' and had managed to use it to teach forty other workers at the complex.
Q: Where to from here?
A: We've now been running courses for almost a year and a half and have over 150 courses created, with almost 1.5 million people signed up from all over the world. Our first business models are working very well; these are the sale of a basic statement for those people who have completed the majority of the steps in the course and all the assessments, so things are going great. But we are very keen to get a wider range of well-targeted courses aimed at a variety of motivations, and are particularly interested in key areas such as STEM, digital creativity and healthcare. We have had a great start but there is a long way to go. We are keen to work closely with all our partners to understand their motivations, as well as the business models they need to fulfil, and find ways in which we can help them do that. We are confident that we can.
For further information about FutureLearn:
Follow them on Twitter: twitter.com/FutureLearn See their YouTube channel: www.youtube.com/futurelearn Visit their website: www.futurelearn.com