Austrian film critic Michael Omasta describes her as "the phantom lady of interwar European cinema", thus emphasising the fact that the erstwhile popular European star Franciska (alternatively 'Franziska') Gaal is mostly forgotten today (Omasta, 2016). Between 1932 and 1936, however, Gaal was a celebrated star of nine popular German-language sound films. All of them were made and produced in either Berlin, Budapest or Vienna and shown across Europe and beyond, and in all of them she played the female lead. Following the success of her European films, Gaal had a brief career in Hollywood between 1938 and 1939. Her trajectory was shaped by historical and political upheavals, which ultimately led to her being almost forgotten today. For this reason, it is interesting to look at her career and stardom in terms of forced migration and exile.
Born at the beginning of the 20th century in Budapest (the exact year is not known), Franciska Gaal successfully appeared on stage in her native Hungary and silent films. Her sound film career then kicked off in Berlin in 1932 with her German-language debut in the film Paprika (Pepper) directed by Carl Boese, a film that made her an overnight star. Yet despite her incredible success she was, like so many actors and filmmakers, not able to continue her career in Germany because of her Jewish background once the Nazis came to power. For Gaal like many other film artists and practitioners who became unwanted and persecuted in Nazi Germany, Austria became a first destination of exile, where it was possible to continue one's career in German language films.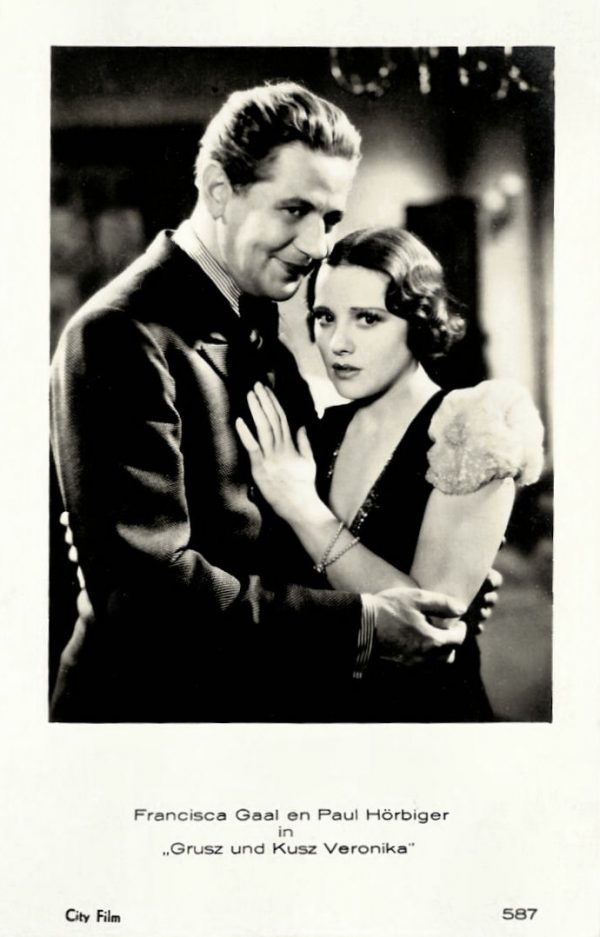 However, as the Austria film industry perceived itself dependent on the German market, producers soon refrained to employ personnel that was banned from German screens (Loacker, 1999). In this vein, the so-called "Anschluss" (annexation) of the Austrian film industry happened years before the National Socialists arrived in Austria in 1938 (Renner, 1988: 1-34). Hence, filmmakers who had hoped to find work in Austria but were now rejected started to collaborate on a series on films that were not intended for a release in Germany, most of them financed by the Hollywood company Universal who also had abandoned by then its previously established German production outlet and whose Head of European operations was Joe Pasternak (Mayr, 2001). Gaal is "the forgotten star" of many of these films (Loacker/Prucha, 2000: 94).
Numerous reports about Gaal and her films in the contemporary press testify to her immense popularity, which they attributed to her incredible comedic talent, youthful appearance, spirit and charm. The songs she performed in the films (all were comedies with music), became instant hits (Mayr, 1999). In all of her films, she plays women with immense wit and ingenuity, which she uses to help her tackle various complicated situations that include being mistaken for an unmarried single mother in Kleine Mutti (1935) and cross-dressing in Peter (1934). Unfortunately, none of the European films she starred in between 1932 and 1937 are commercially available.
The producer of most of her German-language films, Joe Pasternak, argued that the reason Gaal was not "imported" to Hollywood alongside the director of Gaal's biggest successes, Hermann Kosterlitz (in the U.S. Henry Koster), and the screenwriter Felix Joachimson (Felix Jackson), who wrote several of her films, was that "Universal's executives were still pursuing a narrow, chauvinistic policy. They refused to be impressed by Franciska Gaal's success or even by the grosses of the pictures in which she starred" (Pasternak, 1956: 128). Reportedly, though, Kosterlitz and Pasternak were trying to get other studios to look at their previous European star (Birchard, 2004: 303). And indeed, while the production company Universal was not interested to cast Gaal in Hollywood films, Paramount offered her a contract. The American director Cecil B. DeMille cast her as a Dutch maiden alongside Frederic March in the adventure film The Buccaneer (1938). He stated in a promotional leaflet for Paramount Picture's The Buccaneer that his "confidence in Miss Gaal must be apparent from the fact that I cast her opposite Fredric March in a picture as important as this one. I saw her months ago in several European-made films and felt instantly that she had something, […] So I was instrumental in having her brought to this country and put under contract by Paramount. She is amazingly effective on the screen, plays drama and comedy with an equally deft touch and has awakened the enthusiasm of the entire studio with her performance in The Buccaneer." (The Buccaneer. A Paramount Picture: 10)
DeMille and Paramount clearly tried to market Gaal for an American audience, which required a physical makeover. Thus, Gaal not only had to work in another foreign language, but also her looks had to change considerably. The actress was required to loose weight (the allowed weight was part of the contract), and her hair was dyed blonde. The "Hollywood Diet", which included a considerable amount of sportive activities, occupied her the whole day, as she told the Austrian film magazine Mein Film.
Moreover, her part in The Buccaneer was a stark contrast to the characters she had played in her European films, which were high-spirited and independent. In The Buccaneer she had to play a young woman from the Netherlands falling in love with Frederic March's character; who is, however, already in love with a woman from New Orleans. For the first time she starred in a different kind of movie than the musical comedies that had made her popular in Europe.
After three films in Hollywood, one of which was a remake of one of her European films (The Girl Downstairs, 1938), she returned to Budapest in 1940. This illogical move given the tumultuous situation in Europe, seems not to have been intended as a permanent return to Hungary, as she had left luggage in a hotel in the USA, which remained unclaimed for years. It seems the outbreak of the war then prevented Gaal from returning to the States and, as her whereabouts were uncertain, her belongings were auctioned (Der Spiegel, 18 Nov 1953). In all likelihood she had planned the trip as a visit to her homeland and family and her return to the United States was made impossible when the US entered the war. Gaal was forced into hiding when the mass deportations of Jewish citizens began in Budapest, and hidden she survived the mass murder of the Hungarian Jews.
Gaal's attempts to reappear on screen after 1945 failed. One envisaged Hungarian film project with her did not come off the ground, probably because of the poor conditions of the Budapest film production in the post-war years (Loacker/Prucha, 97). Despite her aspirations to make films again, which becomes evident from letters to the Hollywood agent Paul Kohner, Gaal was not able to resume her film career after World War II (Sándor, 1999: 102). The men behind the camera of her European films, however, notably director Kosterlitz/Koster and screenwriter Joachimson/Jackson, were more successful than Gaal in establishing themselves in Hollywood. Testifying to the successes of her European films are the US remakes of a number of the Gaal films. One of Gaal's European success was remade in the US with Ginger Rogers in the lead (Bachelor Mother, 1939) while the Rogers and Fred Astaire vehicle Top Hat was inspired by Skandal in Budapest/Pardon, tévedtem, filmed simultaneously in a German and a Hungarian version in 1933. Spring Parade (1940), another US remake of a Gaal film emerged with the then up-and-coming Deanna Durbin.
Gaal shares the fate of other actresses and actors in Germany and Austria whose careers, if it did not come to an abrupt end, often made several relocations necessary. Many of these names are forgotten today, as is the case with many male actors. Although obstacles existed for all kinds of filmmakers forced into exile, language problems often hindered actors and actresses in particular, although some of course successfully established careers in Hollywood. The difficulties, though, that most exiled artists encountered, makes Gaal's success in starring in three Hollywood films all the more remarkable.
---
About the Author:
Hanja Daemon is a PhD Candidate at King's College, London, working on the post-war German film industry in the British and US zones of occupation, 1945 to 1949. This research was sponsored for three years by the European Research Council project "Beyond Enemy Lines", which engages with the role of culture in the context of occupations. Previously Hanja studied History at the University of Vienna with a focus on Visual, Cultural and Contemporary History, writing her dissertation on Franziska Gaal.
---
References
Anon., Mein Film [Austria], No. 596, p. 9

-- Promotion Leaflet for The Buccaneer. A Paramount Picture [1938]

-- "Franziska Gaal", Der Spiegel/47, 18 Nov 1953

Birchard, R. S. (2004), Cecil B. DeMille's Hollywood, Lexington: University Press of Kentucky

Loacker, A. (1999), Anschluss im ¾ - Takt. Filmproduktion und Filmpolitik in Österreich 1930-1938, Trier: WTV

Loacker A. and Prucha M. (2000), Unerwünschtes Kino, Vienna: Filmarchiv Austria. Mayr, B., (2001), "'Universal's European Money Maker' Franziska Gaal – von Budapest nach Hollywood," in E. Wottrich, (ed.) Deutsche Universal. Transatlantische Verleih- und Produktionsstrategien eines Hollywood-Studios in den 20er und 30er Jahren, Munich: ed. text+kritik, pp. 100-110

-- (1999) "Budapester Charme und Wiener Ambiente. Der Musikfilm im Exil in Österreich und Ungarn 1933-1938" in Hagener M. and Hans J. (eds.) Als die Filme singen lernten. Innovation und Tradition im Musikfilm 1928-1938, München: ed. text+kritik, pp. 166-178 Omasta, M. (2016), Tribute to Fräulein Paprika: Franziska Gaal, Falter, 15/16, 13 Apr 2016.

Pasternak J. (1956), Easy the Hard Way, New York: G.P-Putnam's Sons.

Renner, G. (1988), "Der Anschluß der österreichischen Filmindustrie seit 1934" in O. Rathkolb, W. Duchkowitsch, F. Hausjell, (eds.) Die veruntreute Wahrheit. Hitlers Propagandisten in Österreich ´38, Salzburg: Müller, pp. 1-34.

Sándor, T. (1999), "Gedanken über die Emigration des ungarischen Films" in Götz E. (ed.), Juden in Ungarn: Kultur, Geschichte, Gegenwart, Budapest: Ungarisches Jüdisches Museum, pp. 89-91; 102.


Cited Film Titles
Paprika (1932, D: Carl Boese)

Skandal in Budapest/ Pardon, tévedtem (1933, D: Istvan Szekely)

Peter (1934, D: Hermann Kosterlitz)

Kleine Mutti (1935, D: Hermann Kosterlitz)

The Buccaneer (1938, D: Cecil B. DeMille)

The Girl Downstairs (1938, D: Norman Taurog), remake of Katharina, die Letzte (1936, D: Henry Koster)

Spring Parade, (1940, D: Henry Koster), remake of Frühjahrsparade (1934, D: Géza von Bolvary).