BoB For AI
Exploring the possibility of making our archive of broadcasts
At Learning on Screen, we are exploring the potential in our archive of over 2.7 million television and radio broadcasts – the BoB archive – as a resource for data science research, particularly in the field of Artificial Intelligence.
BoB is Learning on Screen's on demand TV and radio service for education. The BoB archive includes over 2.7 million broadcasts dating back as far as the 1950s and accompanied by a significant quantity of metadata. For example, each show on BoB includes details about cast and crew as well as identifiers for search purposes, and a large quantity of TV material comes with a transcript. BoB is also connected to Learning on Screen's TRILT database. This offers additional metadata and enhanced search features.
As such, we believe our unique archive has great potential as a rich source of audiovisual cultural heritage data, which can be usefully applied in a range of disciplines like digital humanities, computational social science, and computer science.
Studying diversity and representation on screen in the UK with computer vision methods
From February 2020 to March 2021, Learning on Screen conducted a pilot project in collaboration with Nesta to investigate the challenges and opportunities related to using the BoB archive to apply machine learning to answer different research queries. The project – led by Raphael Leung and Cath Sleeman (Nesta) – analysed a sample of the BoB archive to explore how computer vision can be used to study diversity and representation on British TV, with a focus on gender inequality.
Mock the Week (Season 15 episode 6) was shown on BBC2 in March 2017 (originally aired in July 2016). It was produced by Angst Productions and Ewan Phillips.
The pilot has produced the following outputs:
AI and Audiovisual Archives
On 14th February 2020, Learning on Screen organised the event AI and Audiovisual Archives, aimed at identifying challenges as well as the endless opportunities related to using audiovisual archives to develop artificial intelligence-powered tools for education and research. The event brought together leading practitioners and academics from various fields, including computer science, media studies and law.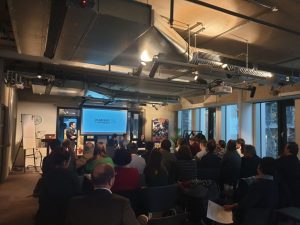 Panel discussion at the AI and Audiovisual Archives event
The event programme included discussions and panel presentations from Cath Sleeman (Nesta), Max Cleary (Digital Catapult), and Thomas Margoni (CREATe, University of Glasgow). You can download the slides from the three presentations below:
You can access a CREATe report of the event here.