The End of Cinema? A Medium in Crisis in the Digital Age by André Gaudreault and Philippe Marion, translated by Timothy Barnard (Columbia University Press, 2015), 256 pages, ISBN: 978- 0231173575 (softback), £22.
About the reviewer: Lisa Purse is Associate Professor of Film at the University of Reading. Her research deals primarily with the relationships between aesthetics and the politics of representation in cinema. A key strand of her research explores popular cinema's interactions with the digital, including the emergence of Digital 3-D. She is the Director of Teaching and Learning for the  Department of Film, Theatre & Television, as well as a member of the Executive Committee of the Centre for Film Aesthetics and Cultures. A recent publication includes her contribution as co-editor to Disappearing War: Interdisciplinary Perspectives on Cinema and Erasure in the Post-9/11 World (Edinburgh UP, In Press).
This is a welcome English-language translation of a volume that is essential reading for anyone interested in thinking through what cinema is in the digital era. Originally published in French in 2013 (under the title La fin du cinéma?: Un média en crise a l'ère du numérique), and here translated by Timothy Barnard, The End of Cinema? is the result of a longstanding and fruitful collaboration between the prolific film scholar André Gaudreault and media scholar Philippe Marion. Building on arguments mooted in their long essay The Kinematic Turn: Film in the Digital Era and its Ten Problems (2012), Gaudreault and Marion take full advantage of the expanded monograph format to achieve a wide-ranging intervention into current debates that is by turns revealing and incisive.
A cursory scan of the contents page might seem to promise a eulogy for celluloid (chapter one is called 'Cinema Is Not What It Used To Be'), but in fact what Gaudreault and Marion offer is a piercing analysis of contemporary discourses around celluloid cinema and its loss. In addition, this volume is as an energetic proposal for how we might understand, analyse and appreciate what cinema is and can be after what they themselves suggest should be called the 'digital mutation'. What lends weight and insight to their project is their committed historiographical approach, which demonstrates that it is only possible to understand the present state of cinema if we understand the evolution and interaction of different mediums and how we write their histories.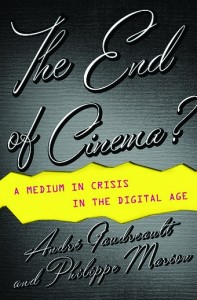 The authors open the book with a central question which looks both forward and back: 'what remains of what we thought, just yesterday, cinema was in what cinema is in the process of becoming?' This palpable sense of living in a time of transition ('just yesterday') recurs throughout a book that is unapologetic about its love for cinema's pasts. Yet in their looks back to previous moments of paradigm change connected to technological innovation in cinema history, the authors consistently illuminate the present moment. Remembering the rupture caused by the arrival of the 'talkies', for example, allows the authors to distinguish the impact of the digital more as a 'fissure' in the dominant paradigm of film production and consumption rather than a revolution, a 'turn' or process, or a rupture. Returning to the emergence of television and the VCR opens up discussion of narrative and photorealism in the digital age. And a look back to the beginnings of cinema allows the authors to distinguish between the birth of the technology and the birth of cinema as an institution, opening up a highly pertinent discussion of cultural practices of production and consumption, processes of legitimation and institutionalisation, and questions of medium specificity. Noting that cinema has always possessed an 'intermedial elasticity' and an ever-evolving identity, Gaudreault and Marion propose the establishment of a 'dynamic genealogy' that can better accommodate cinema's current hybridisation, recontextualisation and 'mutation' in an era of proliferating digital platforms and moving images.
In this way Gaudreault and Marion make thematic the look back/look forward tension evident both in contemporary cinema and in the debates it has provoked, but do so in a cheerfully pragmatic way, illuminating the present while playfully debunking various digital 'myths' along the way. One of the book's great pleasures is a writing style that is provocative, humorous and penetrating in equal measure. In sum, Gaudreault and Marion offer an exhilarating demonstration of the way in which historiography and the re-purposing of terminology can be critical tools with which we can grasp the allegedly unquantifiable and ineffable effects of the digital turn.
Lisa Purse